I am She... The Collective Book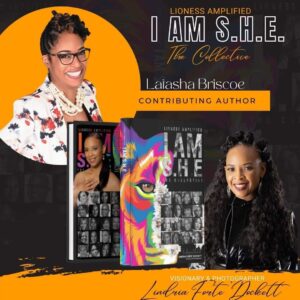 I AM S.H.E. The Collective Experience!!!
I would like to announce that I am a Co-Author for Volume I of Lioness Amplified: I AM S.H.E. – The Collective.
The I AM SHE Collective experience is a one of a kind Photographic Anthology, a compilation of powerful stories and photography to example the Bold, Fierce, Instinctive, Protective and Strong character of a woman.
Lindria Dockett is the eye behind the lens that has captured the beautiful photos and the visionary of this amazing experience.
Our book is set to be released on November 17th, 2021.
We All Grieve Differently Book...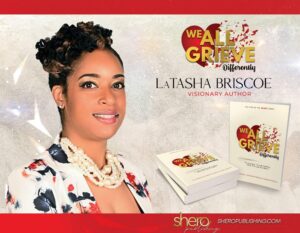 LaTasha Briscoe along with Co-Visionary and Co-Author, LuDrean Howard-Peterson suffered the lost of their mothers. In a time where they could have just been sad in their grief, they decided to share their stories along side 10 other amazing men and women. This book walks the reader through the experience each author went through, tips on coping, resources and so much more. You will learn that just as grief comes in many forms, so does lost. From abandonment to untimely deaths, the authors share the pain and the testimony behind their stories.
Wearables and Business Tools for Everybody!
Messages to keep you motivated and say what's on your mind, without having to say as word. When you are busy, sometimes you just NEED people to know that you are focused! Our custom tees not only keep you inspired all day, but deflects DRAMA… for real! All sized are women or unisex, 100% poly/dry-fit fabric. Wash cold, lay flat to or hang dry and iron low!
Business Tools
In addition to providing coaching services to clients in VIP, One-on-One and Group Mastermind settings, LaTasha has also developed supporting resources for each of those programs. She has conveniently made some of these resources available to individuals to use that are on their own personal business building journey and not yet ready to commit to the process of hiring a professional to guide them through the strategic process.
While several of these resources were initially designed to be used only during a Biz Building with LB coaching session, LaTasha realized not everyone has reached that level of this dynamic process.
Each workbook purchase INCLUDES a 90-minute Success Session. I am not just selling you a book. I am offering you the opportunity to apply the methods and processes in this collection to achieve success in your business. A link will be sent to schedule your session after you purchase your workbook. In the meantime, if you have questions on how to  start your own strategic planning process:  Schedule your complimentary consultation today. 
Workbook topics include:
⭐ The Foundation
⭐ Legal Formation
⭐ Products and Services
⭐ Marketing Plan
⭐ Financial Plan
⭐ The Visuals
⭐ Building a Team
⭐ The Client Experience
⭐ Upselling
⭐ Relationships
⭐ Launching
Template/Form Bundle will be emailed once confirmed. 20+ Samples included covering:
⭐ Welcome Emails
⭐ Follow-up Emails
⭐ Confirmation Emails
⭐ Vendor Agreement
⭐ Non-Disclosure Agreement
⭐ Contract Sample
⭐ Business Plan Template
⭐ Client Questionnaire
⭐ Invoice Sample
⭐ Proposal Sample
⭐Payment Emails
⭐Budget Template (Clients)
⭐Accounting Template (Internal)
⭐All Templates are Creative Industry specific, see note below:
PLUS MORE
Customize your bundle: enter your industry or role in the "notes to seller section" at check-out.